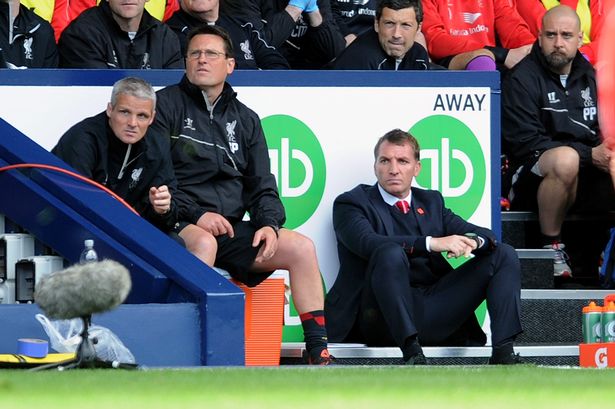 Well let's face it, there's not too much to say on this game. Even the commentators, who considering they are getting paid to watch and talk about football should always be happy, sounded bored out of their minds for the majority of the game. Other than a decent half-volley from Balotelli, a speculative effort from the halfway line by Coutinho and a good save from Myhill to deny Henderson from close range, there was really very little to get excited about; the fact that it took almost an hour for the first shot on target says all you need to know.
Of course, the
Liverpool
defence have to take at least some credit for making this game so boring. The lack of action was largely because of West Brom's ridiculously deep line couple with
Liverpool
's attacking impotence, but on the few occasions that the hosts did threaten the Reds defence coped admirably. Lovren in particular deserves credit: he has taken a huge amount of flak since his 20 million pound move in the summer, but he didn't let that weigh on his mind. Other than a few poorly thought out "Hollywood balls" in the early stages he didn't put a foot wrong, consistently beating Anichebe in the air and making a couple of vital challenges and interceptions. Mignolet had very little to do at all, but he will be pleased with the clean sheet: it takes him joint top in the running for the Golden Glove, something that nobody would have expected after his shaky start to the campaign.
However, encouraging though the newfound defensive strength is, it is almost meaningless when we don't have anyone capable of doing the job at the other end. Sturridge's almost constant injury problems have been a real blow, and unsurprisingly the genius of Suarez has been missed this season. His ability to draw three defenders and then beat them left space for the rest of our attackers to work in – with the exception of Coutinho, nobody has managed to reproduce that sort of thing this season. This has meant that Liverpool have been reduced to aimlessly passing it around just outside the edge of the 18 yard box, occasionally taking pot shots in the hope that they can be bailed out by a wondergoal. Come the summer, whoever is in charge of the club by then will have to prioritise bringing in players who can create and score goals: the links with Depay are encouraging, but if recent history is anything to go by then we'll probably fail to secure his signature and instead settle for Milner.
Balotelli was given a rare chance by Rodgers in this match. He proved all of the vacuous critics wrong in that his work rate could not really be faulted – he made multiple good runs and showed willingness to press the opposition at times. However, he was still ineffectual. This was largely down to the service he was provided, but he does of course have to take some blame for failing to make anything happen: when you're out of favour, you have to grasp any chance you're given. Rodgers looked a defeated man at times, slumped against the wall of the dugout, and this view was reinforced when he threw Borini on with just under half an hour to play. The Italian is even more out in the cold than his compatriot Balotelli, and everybody knew that he would be unable to offer the incisive input needed to break down the
West Brom
back line.
It was a pointless change from a manager who rapidly seems to be running out of ideas – none of the formations he tries are making any difference, and his press conferences are becoming gradually more ridiculous by the day. Am I saying he should be sacked immediately? Not necessarily, no. Rodgers has an ambition for the club which we saw a snippet of in our excellent campaign last year, and if he is given more time then there is every chance that he'll be able to get us to sustain that level of performance and consistently challenge for the league. However, you couldn't blame FSG for pulling the plug on him; he wasted all of their money in the summer, transforming the team from a 100+ goals per season outfit to one who consistently struggles to find the net. Again, the injuries to Sturridge and the almost unavoidable departure of Suarez have to be taken into account here, but Rodgers cannot absolve himself of all blame like he seems to want to do in press conferences. Especially considering Klopp might be available, it wouldn't be too surprising if Rodgers was shown the door at the end of the season.
Be it the manager, the personnel or simply the style of play, something clearly needs to change for next season. This campaign is pretty much a write-off now, but we cannot afford to carry on with these disappointing performances into the new season. We have a good young team with bags of potential, but we need more: we need to bolster the squad with prolific goal-scorers and set them up in a way that allows the goals to start flowing freely once more. One season of mediocrity after a squad overhaul that saw our best player leave can just about be forgiven – if the trend is not reversed in the next campaign, then all of the progress we seemed to be making last season will be undone.
-James Martin
Follow me on Twitter @JamesMartin013